Biden Just Infuriated Every American – You Won't Believe The Disrespectful Thing Joe Just Did
When Biden first entered the Oval Office, he bragged about how his administration would be all about transparency.
However, reporters and journalists have often been frustrated at the President's lack of briefings and public appearances, and they've even been dismissed from the White House in relatively insulting fashion.
And it just happened again — and Biden seemed to laugh at the whole spectacle.
Critics have been saying the same thing for a while: POTUS is highly protected in D.C. and really only answers questions he's prepared for. He also only calls on "vetted" reporters, and holds crib notes.
These are accusations that have some basis in fact, as we've seen. It doesn't help that Biden himself doesn't seem to have any trouble ignoring the press.
From Fox News:
Reporters were once again escorted out of the Oval Office and prevented from asking President Biden questions at the White House on Monday.
Biden welcomed Danish Prime Minister Mette Frederiksen and both world leaders gave approximately four minutes' worth of remarks on the alliance between their two countries.
After the pair discussed the countries' dedication to assisting Ukraine as well as combating climate change, Biden thanked the press without taking questions as White House staffers escorted them out of the room.
Neither Biden nor Frederickson answered the questions and were seen visibly smirking in their direction. They even seemed to chat with each other while ignoring the press.
This isn't anything new, unfortunately. Biden also appeared to smirk and laugh at reporters during a meeting with Spanish Prime Minister Pedro Sanchez back in May.
And last October, the President acted similarly with Israeli President Isaac Herzog; reporters shouted questions and Biden refused to answer, and even seemed to mimic them talking. He even laughed when some journalists were taken away.
Reporters and politicos have criticized Biden for this behavior, and the White House in general for ignoring certain questions and protecting the President from difficult queries.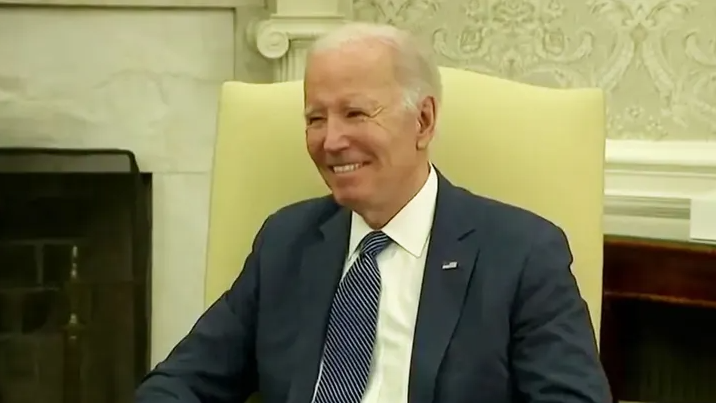 Additionally, they announced in May that the administration would change the rules about who can attend press briefings and conferences. If a reporter doesn't "act in a professional manner," he or she can be banned.
However, many instances only involve journalists asking questions and getting no response, and then being ushered away.
And the revised rule is seen by many as just another attack on the First Amendment, and elevates big government even more — to the point where it cannot be questioned or publicly criticized.
All of this is a bad look for a so-called "free" America, and many citizens are often furious with Biden's behavior around the press.
Key Takeaways:
President Joe Biden appeared to smirk and laugh at reporters who asked questions, and were then escorted away.
Past examples of similar behavior include meetings with the Spanish Prime Minister and Israeli President.
Reporters are increasingly frustrated over being ignored and even banned, as the White House seems to keep Biden highly protected.
Source: Fox News