BREAKING News Out Of Washington- LOOK WHAT THEY FOUND IN BACK OF STARBUCKS BIG RIG!!! HOLY HELL!!!
The Centralia Police Department in Washington pulled over a Freightliner big rig truck that was delivering Starbuck's coffee from California to Washington and noticed that the driver and his passenger were acting suspiciously.
Officers deployed a narcotics-sniffing K-9 to check out the truck where the dog found a large amount of meth, Fox News reports.
A search of the truck's interior discovered 40 bundles of meth in a television box on the top bunk of the truck's sleeper berth, The Olympian reported.
Under the mattress on the lower bunk, an additional 50 bundles of meth were found, along with 2.4 pounds of suspected heroin, thousands of 30 milligram Oxycodone pills, and a few grams of cocaine.
A weighted total of 126 pounds of meth was found in the truck.
The driver, a 22-year-old man from Mexico, and passenger, a 62-year-old man from Fontana, California, were booked into Lewis County Jail on multiple drug charges.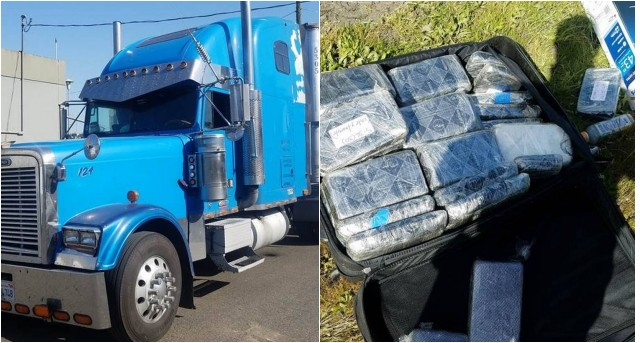 Centralia Police Department
None of the contraband was found in the trailer, and none of the Starbucks products were exposed or compromised, the release says.
The Joint Narcotics Enforcement Team includes detectives from the Centralia and Chehalis police departments, Lewis County Sheriff's Office and the Washington State Department of Corrections.
Great job guys! Stay safe out there!
#BLUELIVESMATTER
God Bless
TOGETHER WE WILL MAKE AMERICA GREAT AGAIN!