BREAKING: Russia Just Launched NUCLEAR BOMB- Says THIS To BIDEN
Russia is flexing it's muscle while sending a distinct warning that they have nuclear weapons and won't hesitate to use them if they find it to be necessary to win this war.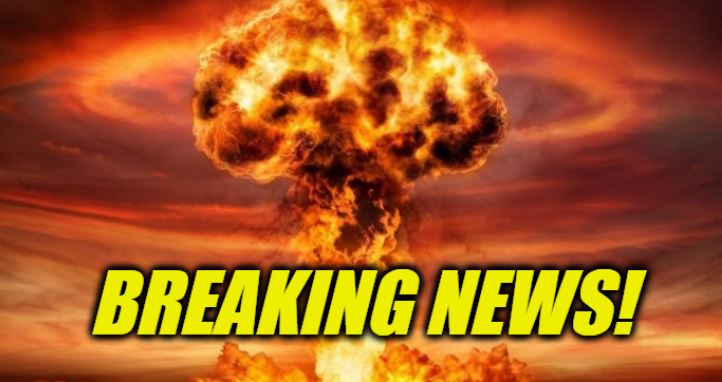 Russia doesn't fear Biden or America and feel that no one is willing to stop them from doing what they want to do to win this war against Ukraine.
Ukraine would not exist if America didn't give them a vast amount of weapons from our stockpile which has left our own military unprepared for war.
We have also given BILLIONS of dollars to Ukraine which is for the most part unaccounted for- money that should be being used for the problems we face here in America as well as for building our own military- I mean we have China to worry about and our military surplus is being depleted to fight someone else's war.
China is about to take action against Taiwan and they will succeed.
Who's going to stop them?
Biden? LMAO.
Our government is being run by incompetent FOOLS.
RUSSIA'S NUCLEAR THREAT IS REAL
Mac Slavo at SHTFplan reports that
Russia has conducted a nuclear weapons drill, its first since the "invasion" of Ukraine. The West continues to insist that only Russia is instigating the war as it simultaneously conducts war drills of its own and threatens the use of nuclear weapons.
Russia also warned the West that a "dirty bomb" plot is being devised as a false flag by Ukraine. The United States and other NATO allies have brushed it off as Russia's attempts to pre-blame Ukraine for a bomb they will set off.
Russia Warns The West That Ukraine is Plotting A False Flag "Dirty Bomb" Attack
According to the Financial Times, Russian armed forces on Wednesday practiced what defense minister Sergei Shoigu called a "mass nuclear strike with strategic attack forces in response to a nuclear attack by our adversary", as Putin monitored events via videoconference from the Kremlin. Addressing security chiefs from a group of ex-Soviet countries after the exercises, Putin said "geopolitical confrontation has sharply increased" and accused the US of using Ukraine as a "battering ram" against Russia.
Russia also wants the United Nations to look into the United States-funded biolabs being run in Ukraine.
The war-mongering is unending and things seem to be getting worse by the day. The mainstream media sees distraught at the thought of Russia using a nuclear weapon but get almost giddy when it looks like the U.S. will be using them.
Washington "will use the full range of US defense capabilities to defend our allies, including nuclear, conventional and missile defense capabilities," the deputy secretary told a Tuesday meeting with South Korean and Japanese officials, ahead of a series of talks this week. She hailed America's commitment to the defense of Seoul and Tokyo as "ironclad".-ZeroHedge
The U.S. military has also conducted a hypersonic missile test. The rocket carried 11 different experiments designed to test and collect data for hypersonic weapons research to support the joint Army-Navy program, the Navy said according to CNN.
None of this would be happening if Trump didn't have the election stolen by these democrat scumbags and THE DEEP STATE.
WE DON'T HAVE THE MONEY TO FUND OTHER PEOPLES WARS.
THE BIDEN PRESIDENCY IS A COMPLETE DISASTER AND IF WE DON'T TAKE AMERICA BACK WE ARE DONE.
PATRIOTS- THE MOST IMORTANT THING YOU CAN DO IS VOTE RED DOWN THE LINE.
DO YOUR RESEARCH AND VOTE FOR AMERICA FIRST CANDIDATES.
WE CAN AND WILL DO THIS MY FRIENDS.
CAN WE UNDO THE DAMAGE THESE LEFTISTS HAVE DONE TO AMERICA?
THAT REMAINS TO BE SEEN.
EVERY VOTE COUNTS.
WE HAVE TO SAVE AMERICA BEFORE IT'S TOO LATE!
H/T: AMERICAS FREEDOM FIGHTERS
God Bless.
Please take a moment and share our articles with your friends, family and on all social media sites! Thank you, we appreciate it!