BREAKING: Top REPUBLICAN Just ARRESTED By The FBI
It's beyond obvious that the heads of the DOJ and the FBI have been weaponized and politicized to target Republicans while completely avoiding the mass corruption in the Democrat party.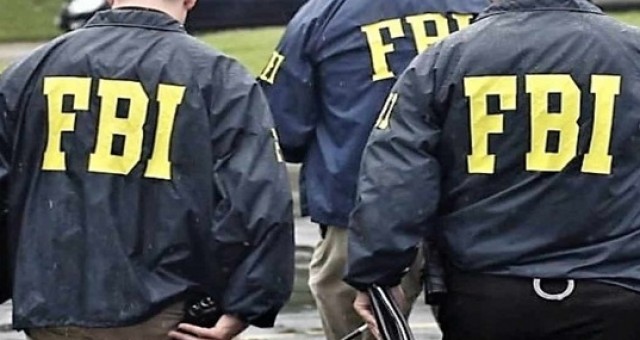 Pelosi and her insider trading, Hillary's massive list of crimes and the Biden Crime Family's corrupt business dealings with the Communists.
WHY HAVEN'T THEY INVESTIGATED ANY OF THESE DEMOCRATS?
The priority is to take down President Trump and protect the far left radicals like BLACK LIVES MATTER and ANTIFA.
Again, this is all coming from the top.
Most of the rank and file agents are doing their job and many of these agents are disgusted.
WHERE'S HUNTER?
Once again, rather than making headlines for progress on the Hunter Biden case, the FBI has targeted another member of the Republican Party.
Now, I am not saying this man did not deserve to be arrested.
But I am wondering when we will start to see some progress in the Hunter Biden case.
Who Is He?
Jason Schofield, 42 is a New York Republican election commissioner who is accused of unlawfully possessing and using the names and dates of birth of voters in connection with absentee ballot applications that he submitted to a New York State Board of Elections website in 2021.
The indictment alleges that Schofield applied for absentee ballots in the names of people who had no interest in voting in 2021 and did not request absentee ballots or Schofield's assistance in voting or obtaining absentee ballots.
The report says that Schofield was allegedly in possession of some of these ballots with the intent of casting votes with them.
If he is found guilty, he will face up to five years in prison and a $250,000 fine for each count.
Again, if he is guilty, I hope they throw the book at him and put him away for the max time.
I cannot fathom why he would do this, though.
Republicans are hammering election fraud right now, and this feeds Democrats more ammo to use against the GOP in this election cycle.
Or maybe, just maybe, the entire system is so corrupt they cannot help themselves.
There is a ton of evidence that Democrats committed and are still engaging in election fraud but what do we get?
Crickets.
CORUPT AS ALL HELL.
TTOA COMPLETELY BACKS LAW ENFORCEMENT UNLESS THEY ARE CORRUPT.
WE THANK THE DOJ AND FBI FOR THE GOOD WORK THEY DO TO KEEP AMERICA SAFE.
BUT THE SWAMP DWELLERS MUST BE REMOVED AND HELD ACCOUNTABLE FOR THEIR ACTIONS.
#VOTEAMERICAFIRST
#SAVEAMERICA
Source: Fox News
H/T: AMERICAS FREEDOM FIGHTERS
God Bless.
Please take a moment and share our articles with your friends, family and on all social media sites! Thank you, we appreciate it!