New Text Messages Emerge of Cassidy Hutchinson Talking About Jan. 6 Committee
Report: Text Messages Show Cassidy Hutchinson Referring to January 6 Committee As 'BS'
The Daily Caller reports to have text messages where former White House staffer Cassidy Hutchinson called House J6 hearings "bs."
"Hey (redacted)!" Cassidy wrote in a February 1 text message. "This is Cassidy Hutchinson. Kind of a random question, but do you still work for the Schlapp's (sic) at the ACU?"
Matt Schlapp is the chairman of both the American Conservative Union and CPAP, which the ACU organizes.
Hutchinson's recipient responded by saying they were still working at the ACU.
"Do you happen to know a First Amendment Fund POC I could reach out to?" asked the former West Wing staffer referring to a point of contact. "I was subpoenaed in early Nov., but the committee waited to serve me last week (after Ben's deposition)."
The First Amendment Fund was created by the ACU to help officials who served in former President Donald Trump's administration cover costs for Jan. 6 lawyers.
"I had to accept service because the U.S. Marshalls came to my apartment last Wednesday, but I haven't made contact with the Committee," she added in a follow-up text. "I'm on a tight timeline and just trying to figure out what my options are to deal with this bs."
The person she was texting did not respond until the following morning, apologizing for the long delay.
"I'm sorry for my late response," the individual remarked. "My phone wild since Trump got announced with people wanting to come to CPAC."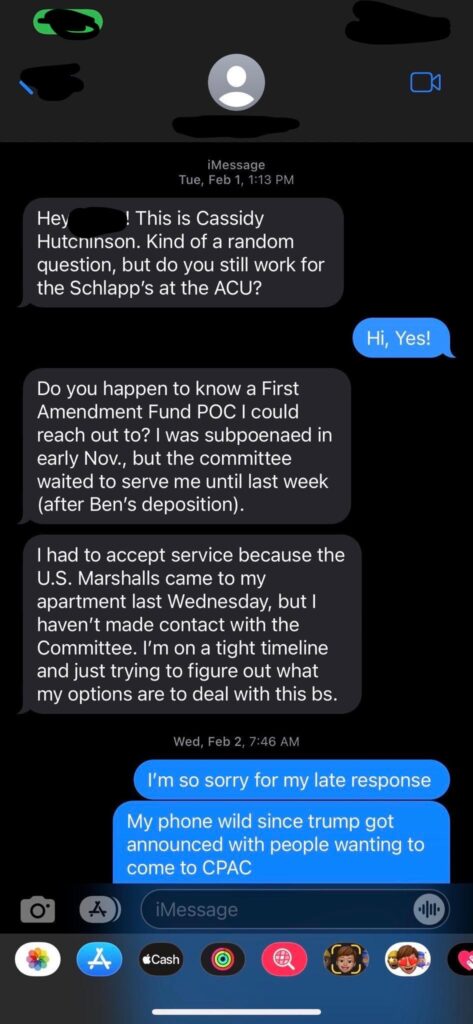 The Daily Caller report added they had reviewed another text message in which Hutchinson told the conservative activist she does not want things to get "unnecessarily elevated" in regard to the Jan. 6 committee.
"Ms. Hutchinson approached @CPAC for help through our First Amendment Fund which has helped J6 political victims defend themselves," Schapp said in a June 28 Twitter post. "I am pleased we did not assist her performance today. Relaying WH hallway gossip as fact does not qualify as first person testimony."
Hutchinson testified during a J6 Committee hearing how Secret Service agent Anthony Ornato motioned her into his office when she returned to the White House Jan. 6, 2021. She said Ornato informed her former President Donald Trump allegedly became irate when the agent driving "The Beast" said they were returning to the West Wing.
After agent Robert Engel relayed their destination, the former president got angry, according to Hutchinson. She said Ornato told her Trump cursed at Engel, invoking his office and demanding to be driven to the Capitol. The former Mark Meadows aide said Ornato told her the 45th president lunged towards the front of the presidential limousine she called The Beast and got one hand on the steering wheel.
Trump haters got giddy after hearing Hutchinson's testimony, thinking her testimony may provide the smoking gun to prove that some way or another the former president was responsible for the Capitol riot.
Unfortunately for them, a June 28 Associated Press tweet rained on their parade.,
"Bobby Engel, the agent who was driving the presidential SUV, and Trump security official Tony Ornato are willing to testify under oath that no agent was assaulted and Trump never lunged for the steering wheel, a person familiar with the matter said," the news organization posted on their Twitter account.