Pelosi Drops BOMBSHELL On Camera
Speaker of the U.S. House of Representatives Nancy Pelosi of California dropped a bombshell on CBS News' "Face The Nation" on Sunday.
Inflation
Not only does Pelosi not want to talk about inflation, but she also doesn't seem to think any Democrat should.
According to TheBlaze, host Margaret Brennan asked Pelosi about inflation given that it is the top polling issue for American voters going into the midterm elections. The economy and jobs follow, and the Democrat pet topics of January 6th and Abortion.
"And the fact is, is that, when I hear people talk about inflation, we have to change that subject," Pelosi revealed. "Inflation is a global phenomenon."
NANCY PELOSI: "When I hear people talk about inflation…we have to change that subject!" pic.twitter.com/Ck1DaPVrCc

— RNC Research (@RNCResearch) October 23, 2022
Monmouth University polling showed that inflation is by far and away the most important topic of the upcoming election followed by elections and voting, reflecting serious concerns over election security.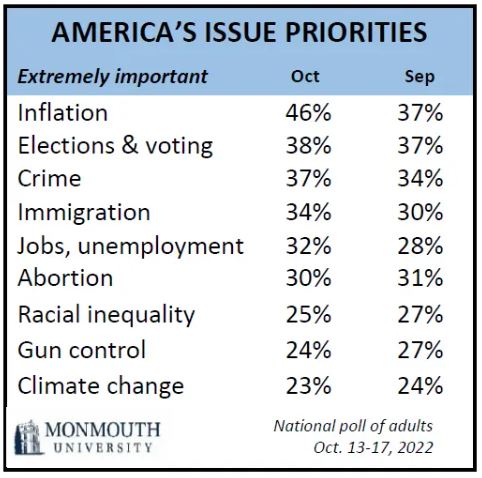 The priorities espoused by the Democrats such as Abortion, so-called racial inequality, gun control, and climate change ranked uniformly at the bottom of the polls.
A concurrent Gallup poll reached similar conclusions with significantly greater detail.
Pelosi even attempted to defend the Biden regime's record on inflation that has devastated American families. "The E.U., the European Union, the U.K., the British, have a higher inflation rate than we do here."
"It's not – the fight is not about inflation. It's about the cost of living," Pelosi told host Brennan. "And if you look at what we have done to bring down the cost of prescription drugs, to bring down the cost of – of energy and the rest in our legislation, you will see that that has been opposed every step of the way by the Republicans, and they have no plan for lowering the cost of living or helping with inflation."
Brennon asked the Eighty-two-year-old if she regrets flooding the economy with $1,400 'stimulus checks' and passing huge pandemic relief bills, and if those actions contributed to inflation.
"No, absolutely not, because this – that was necessary for people to survive. Our purpose," she answered. "But the point is, is that, when you reduce unemployment, it's inflationary. That is a fact."
"Things like sending those $1,400 checks, putting cash out there — didn't that end up contributing to inflation? Do you have any regrets?"

NANCY PELOSI: "No, absolutely not." pic.twitter.com/sVUVfmq9no

— RNC Research (@RNCResearch) October 23, 2022
What an idiot.
Abortion
Brennan noted to Pelosi that a CBS News poll found abortion to be the seventh most important topic on Americans' minds and asked the Speaker if the Democrats have made a "miscalculation" by leaning heavily on codifying abortion.
"Well, I can just say this. Nobody ever – elections are about the future," Pelosi replied. "They're about the economy. Everybody knows that. Nobody said we're doing abortion, rather than the economy, but it's – it's about both. And I can tell you that that issue is very, very provocative and encouraging people to vote across the country."
The disconnect from reality is eminently visible for anyone to see.
H/T: AMERICAS FREEDOM FIGHTERS
God Bless.
Please take a moment and share our articles with your friends, family and on all social media sites! Thank you, we appreciate it!