Democrat Arrested, Indicted on Multiple Charges
NY Lieutenant Governor Arrested on Bribery Charges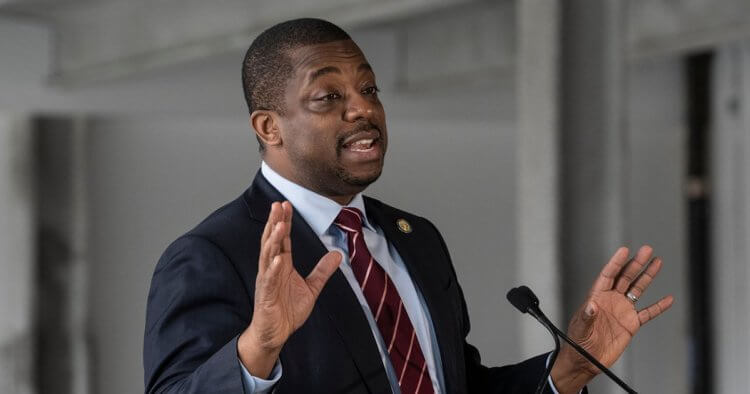 Trouble abounds for New York Lieutenant Gov. Brian Benjamin. Fox News reports he was indicted for alleged bribery, and that federal prosecutors are investigating whether Benjamin knowingly engaged in a campaign finance fraud scheme.
According to NBC News, Benjamin is expected to appear in a federal court in New York City late Tuesday.
Breitbart confirmed an earlier AP report that the indictment against Benjamin will be unsealed at a noon press conference on Tuesday.
Manhattan federal prosecutors and the FBI are investigating allegations that Benjamin received campaign contributions from a Harlem real estate developer in exchange for Benjamin obtaining a $50,000 state grant for the developer's business.
According to NBC News, a "developer allegedly provided Benjamin with two $10,000 personal checks in the names of relatives who did not share the developer's last name…[and] allegedly did this to conceal any connections between himself and the contributions."
The developer also allegedly provided Benjamin with a third check for $5,000, in the name of a LLC owned by the developer.
Reportedly, the indictment asserts that Benjamin and others worked to "cover-up" the plot and engaged "in a series of lies and deception." 
Reportedly, Benjamin was involved in multiple illegal financial dealings between 2019 and 2021, when he was a state senator and a candidate for state comptroller.
During that period, Benjamin allegedly falsified campaign donor forms and provided false information when being vetted for the position of Lieutenant Governor. Specifically, Benjamin stated he had never "directly exercised" his authority as an official "concerning a matter of a donor [he] directly solicited."
Benjamin appears to be facing charges of bribery, conspiracy, honest services wire fraud, and falsification of records. 
If convicted, Benjamin could serve 5 to 20 years in prison.
Fox News reports that Gov. Kathy Hochul's office did not immediately respond to a request for comment.
Damian Williams, U.S. Attorney for the Southern District of New York, is expected to lead a press conference Tuesday afternoon. Williams will be joined by officials from the FBI and the New York City Department of Investigation.
Scroll down to leave a comment and share your thoughts.